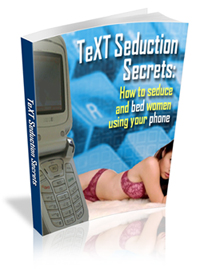 I just added a new ebook to the Mens-Dating-Guide.net dating ebook library. Unless you live under a rock you should know that text messaging is an extremely popular way to communicate. It is so popular that new laws had to be put on the books to stop people from texting while driving in an effort to prevent distracted driving accidents!
Texting is a convenient way to send quick messages or status updates to a friend or list of friends directly or through social networks without getting into a time consuming 1-on-1 conversation.
Now, what you may not know is that texting can be a powerful dating and seduction tool if you know how to do it properly.
If you would like to learn more, just click the link below…
How to Seduce Women Using Texting
Hug & Kisses
Dee
xoxoxoxoxoxo